Whatever your residential or commercial roofing needs, we have the skill and knowledge to help. We can install, maintain, and repair all types of roofing materials including slate roofing, GRP fibreglass, felt, and EPDM rubber roofs. We can also fit a range of roofing structures that will last for many years to come.
Our work includes all types of traditional, modern, and roofline work, including specialist roofing work. This includes lead work, chimney repair, lead work, and more. All our roofing work is fully guaranteed so you can rest assured that if you face any problems in the future, our team is on hand to help.
We are happy to have grown an excellent reputation and much of our work comes from local word-of-mouth recommendations. See our reviews on Trustatrader. When you choose our roofers, you can always expect a consistently high level of experience.
From small roofing repairs to completely new roofs, make Radlett Roofing your number one choice. We can be reached on 01923 961 055.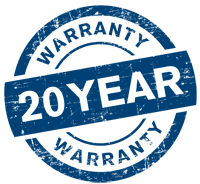 We're proud to offer a 20 year warranty on all new roofs
Roofing repairs and maintenance near Finchley
For fast and efficient roofing repairs and roofing services in Finchley, Edgware, or Stanmore, call the team at Radlett Roofing. We can complete all types of roof repairs from fixing small roof leaks to complete roofing overhauls and major repair work.
Your roof is the one part of your home that will constantly be exposed to the elements and the worst of the weather. It is normal for roofing to suffer from wear and tear, such as slipped or cracked tiles or slates. It is important to address any roofing issues swiftly. If water gets into the framework of your building it can cause expensive issues, which can even cause structural damage.
Alongside normal wear and tear, storm damage can also lead to damaged rooflines and roofing. We offer a 24/7 service, so if your roofing needs some swift attention, we are the team to call.
HA7 flat roofing specialists
Flat roofing is used for many domestic and commercial applications, including providing watertight and stylish coverings for extensions, garages, and porches. We are flat roof experts for all flat roofing services in Edgware.
Flat roof installations: We can install all types of flat roofing systems, so we can provide you with a watertight, durable, and long-lasting flat roof. This includes EPDM rubber roofs, GRP fibreglass roofs, and felt roofs. Our standard of flat roof installation is always second-to-none and all roofs come with comprehensive guarantees for your peace of mind.
Flat roof repairs: Have you got a cracked or leaking flat roof? Water pooling on your flat roof? We can diagnose all flat roof issues and make the necessary repairs whilst ensuring minimal disruption.
Flat roof maintenance: Let our roofers maintain your flat roof, so it stays in good condition and performs well. We can provide clear quotes for any service at any time and all prices are always completely transparent.
New roofs  and re-roofing in Edgware
We complete a range of re-roofing and new roof installations in Edgware and Finchley. We can discuss with you the best options for your new roof, including the choice of materials. Like everything in life, roofing will have a lifespan and once you are paying more to repair your roof, then it makes sense to replace it.
New roofing boasts a range of benefits, including fantastic aesthetics and increased thermal efficiency. A new roof will always add to the value of your home. We can provide a free site survey at any time to assess the condition of your roof and to give advice.
Fully-insured
Competitive prices
All new pitched roofs and flat roofs installed
High-quality materials
20-year guarantee on all new roof installations
William Harber
They was very helpful and truthful from start to finish and work to a professional standard would use again and recommend to any one

Contact our helpful roofing company in Edgware
Find out more about our roofing company in Edgware and how we can help you by calling us now on 01923 961 055 or by emailing info@radlett-roofing.co.uk