Radlett Roofing has over 15 years' experience providing residential and commercial customers throughout Radlett and the wider areas with all types of new roof installation. There comes a time when it is more effective to re-roof your property than to complete lots of roof repairs. New roofs and re-roofing can provide an affordable option. Whether you need re-roofing, a roof for a new build, a flat roof to pitched roof conversion, or another new roofing installation, we can help.
From traditional slate and tiled pitched roofs to flat roofs using the most advanced materials, we will always ensure that we provide the most appropriate and affordable roofing option for your needs. We know that installing a new roof is a major project but we complete all work with minimal disruption and only use the best, quality materials for an unrivalled finish.
We are your local new roof specialists. Please call us now on 01923 961 055.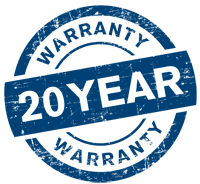 We're proud to offer a 20 year warranty on all new roofs
Why install a new roof?
Your roof might be one of the biggest investments that you make in your home. A new roof will offer you a host of benefits.
Protects your home
Most importantly, any new roof will protect your home from bad weather and the elements. If you have a leaking or structurally unsound roof, this could damage the very fabric of your property and cause issue such a mould and mildew, which can affect your health.
Makes property more appealing
A new roof is a sound investment that will make your property smarter, boost its value, and make it more appealing to potential buyers in the future.
More energy efficient
If you would like to cut down your fuel costs, then a new roof will make your home more energy-efficient. This will also reduce your carbon footprint.
Guaranteed
We offer guarantees of 20 years on all new roofs. This will give you peace of mind for many years to come.

Re-roofing and new roofs covered – all roofs guaranteed!
New pitched roof installations: We specialise in traditional pitched roofs, which can be fitted at a variety of heights and angles, depending on the design of your property.
Replacement roofs and re-roofing: We can carefully remove your old roof and install a new roof to excellent standards.
Roofs for new builds and extensions: If you are building a new home or renovating your existing property, we can supply and fit any type of pitched or flat roof, according to your needs. We only use the finest roofing materials.
Flat roofs: We specialise in the installation of all types of flat roofing systems, including EPDM rubber roofs, fibreglass roofs, and felt roofs. These roofs are durable, quick to install, and completely weatherproof.
Flat roof to pitched roof conversions: Whilst there are many benefits associated with flat roofs, you may wish to convert your flat roof to a pitched roof and we can complete this work for you.